15 Benefits of Faux (Artificial) Flowers and Bouquets.
Luxury faux flowers and bouquet arrangements are so convincingly natural that they deceive even the most admiring on lookers. The flower petals' colours and curves, foliage textures, and stems are all expertly manufactured to recreate the look of a single stem flower or bouquet arrangement. When placed in an appropriate vase, the benefits of using artificial flowers transcend mere decoration and become a statement of beauty.
If you're looking for a luxurious, long-lasting alternative to fresh flowers, faux flowers are a great option.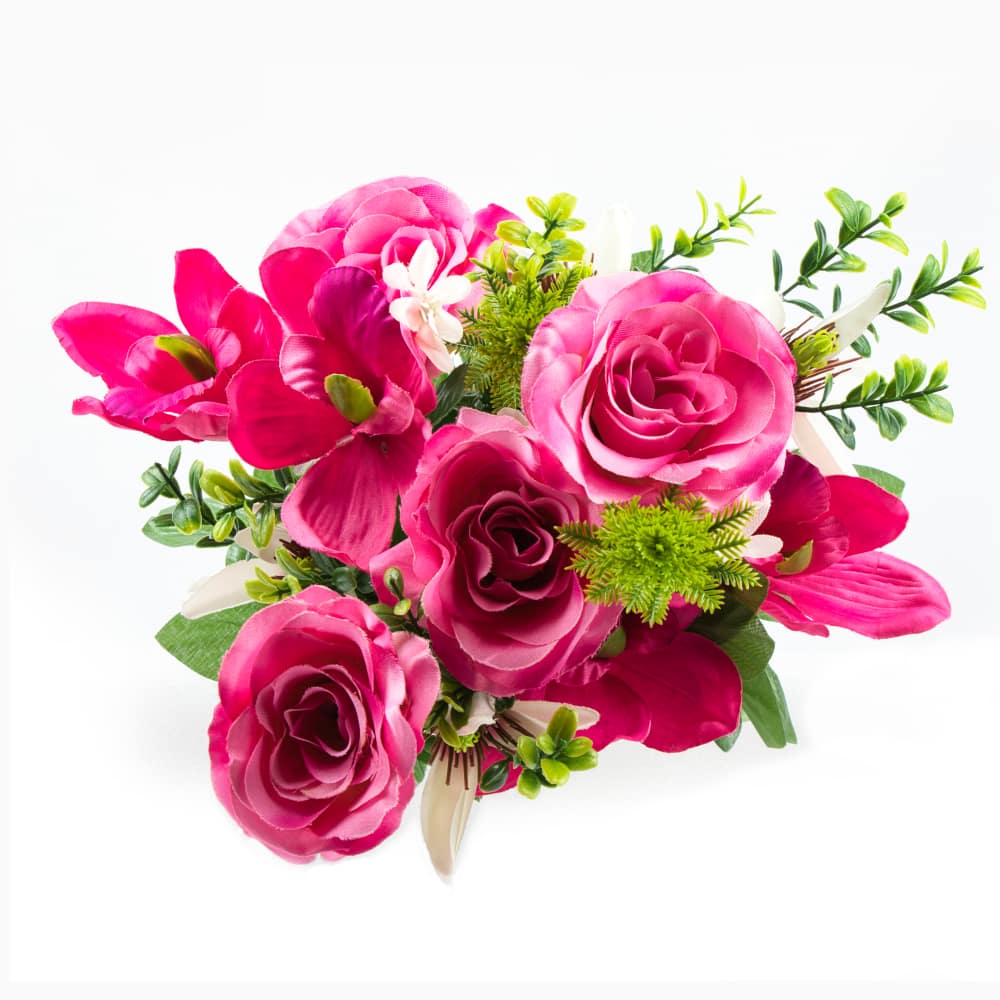 1. Hypoallergenic. Faux Flowers are perfect for those with allergies or sensitivities to pollen.
If you or a loved one are allergic to pollen or have sensitivities, you don't have to give up on flowers. The majority of flowers, including popular favourites like roses, are toxic to many people. Faux flowers (artificial flowers) or silk flowers are a beautiful, realistic alternative to natural flowers. They're evergreen with a set-and-forget approach, which means that you don't have to worry about them wilting or leaving your home smelling unpleasing.
Faux flowers come in a variety of styles and colours, so you're sure to find single stems or bouquets that suit your personality, and home. Some are made from natural materials like silk or cotton, while others are made from synthetic materials like plastic or foam. They can be placed anywhere in your home – on tables, desks, or mantels – and they'll add a touch of elegance and whimsy to any space.
2. Faux flowers are more cost effective than fresh flowers.
People always ask for fresh flowers but they don't understand the luxury of faux flowers or silk flowers. Budgeting and living on a tight budget can be challenging, but it does not mean you can't enjoy the beauty of flowers. Faux flowers provide all of the beauty of fresh flowers without any of the hassle or expense.
While fresh flowers are always a good choice, faux flowers can be a good and cost-effective alternative, with longer-lasting results. They can last up to six months. Depending on your taste and choice, there are many different varieties to choose from, ranging from elegant silk to vibrant chenille. A beautiful potted rose bouquet can bring the same visual delight as its fresh counterpart.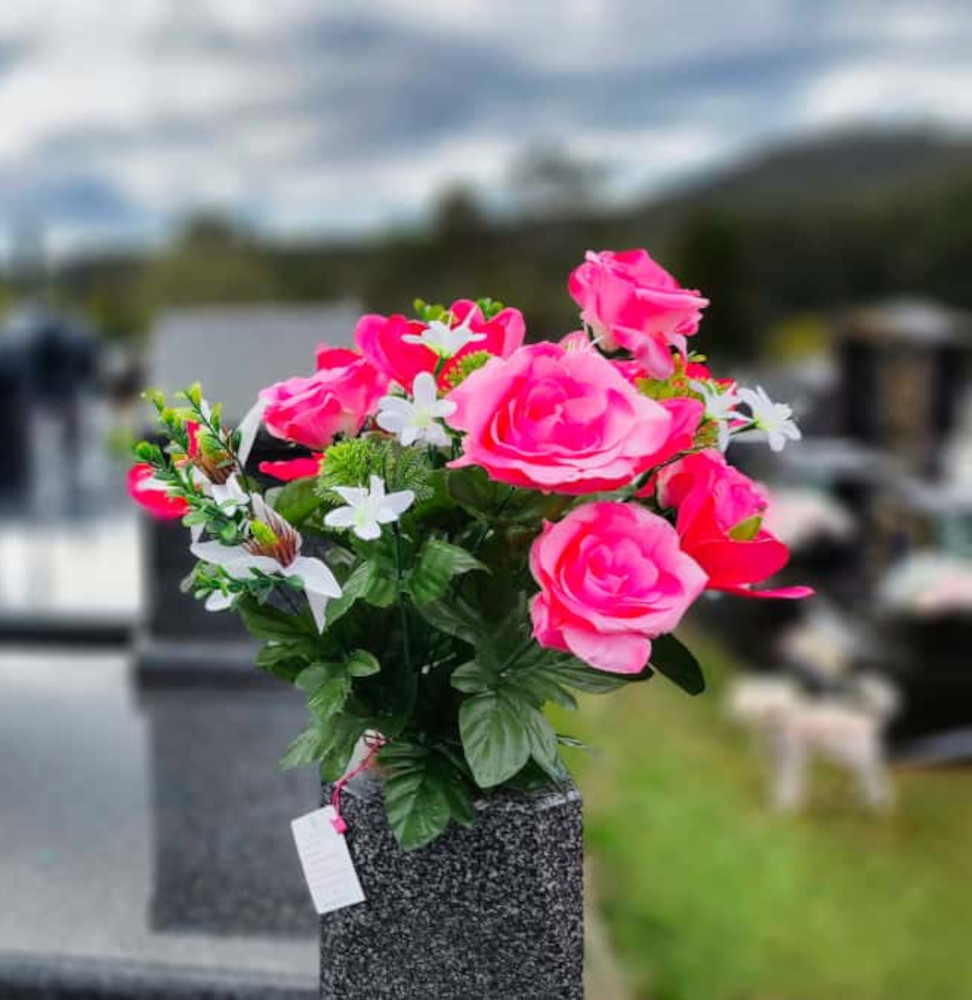 3. Faux Flowers are always in Bloom.
Faux flowers are the best because they can be forever blooming! You don't have to worry about them ever wilting because they're not real. They'll always be in bloom and looking beautiful, adding a touch of luxury to any application. They're perfect for those who are short on time and want to add a pop of colour to interiors and exteriors.
4. Faux Flowers are durable and can be reused multiple times.
Have you ever been to a wedding where the bride chose to fill her centerpieces with faux flowers? It's a trend that's been gaining traction for years, and for good reason: faux flowers are durable and can be reused multiple times.
Faux flowers are an excellent choice for those who want to enjoy the beauty of flowers without the hassle of maintaining fresh ones. These flowers are made of high-quality materials that are designed to last, so they can be reused multiple times. In addition, they are often more affordable than fresh flowers, making them a budget-friendly option.
You'll find faux flowers everywhere! They're just as beautiful as real flowers but they won't die on your watch to leave you picking up the petals.
5. No Watering. Faux Flowers don't require watering.
Faux flowers don't require watering, which means they're low-maintenance and easy to care for. You don't have to worry about them wilting or dying if you forget to water them, which makes them a great choice for busy people or those who travel frequently. They also don't attract pests as real flowers do, so you don't have to worry about them being eaten by bugs. Faux flowers come in a wide variety of colours and styles, so you can find the perfect ones to match your décor, plus because they're made of materials like silk, fabric and plastic, they're also more durable than real flowers, so you can enjoy them for longer.
6. Faux flowers are also low-maintenance in general.
Faux flowers are a beautiful and hassle-free option for those who want to enjoy the look of fresh flowers without any upkeep. Unlike fresh flowers, which need to be watered frequently and kept in a cool, dark place, faux flowers don't require any special care and can be enjoyed for months or even years.
If stored away and accidentally crushed, faux flowers can be restored with a simple trick: Utilising a hair dryer, simply blow-dry the flowers on low heat and watch as they come back to life and regain their shape.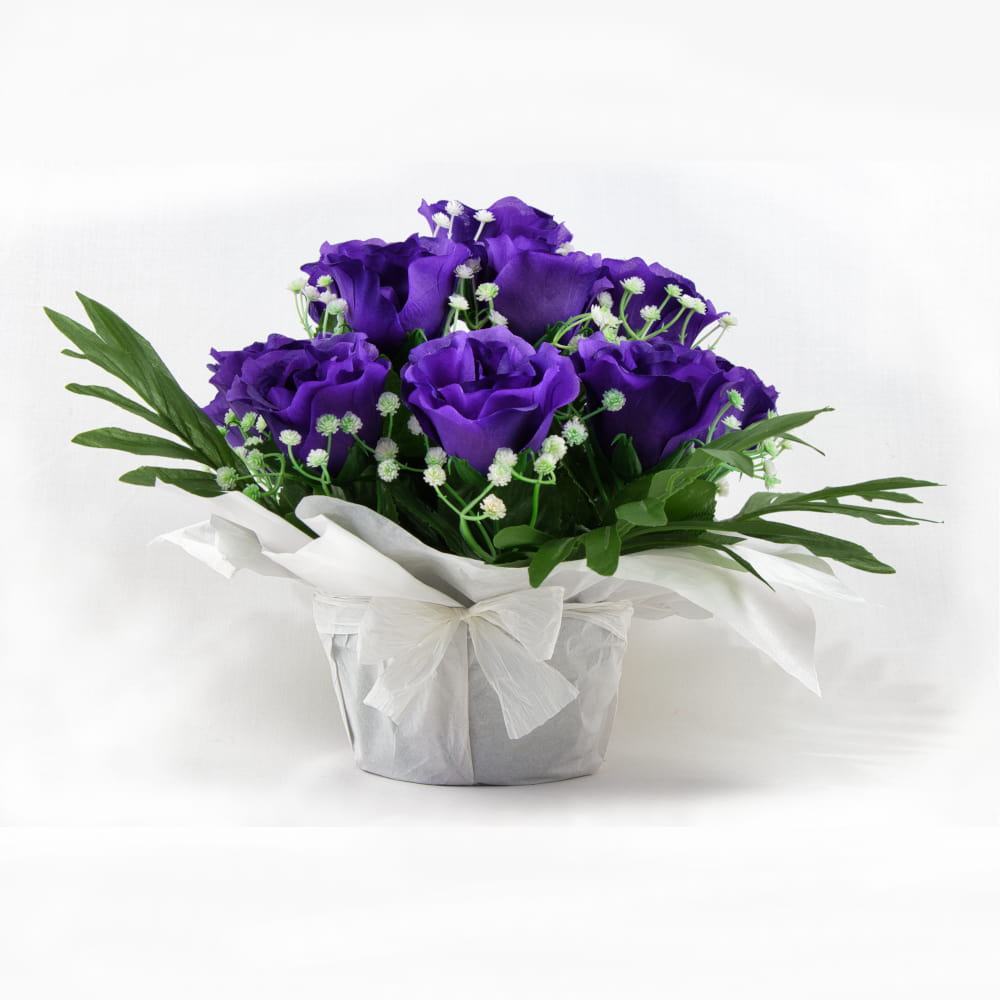 7. Faux Flowers are great for high-traffic areas because they are long lasting.
Faux flowers are the perfect solution for a wide variety of decorating needs, and you can use them for a wide variety of reasons. Whether you're trying to decorate a party space, create a modern office environment, or create a romantic atmosphere for a dinner date, faux flowers have a wide variety of styles and colours that can meet a high traffic environment. While they were once thought of as cheap and made to look pretty on the outside, they can now be made to look extremely lifelike. Faux flowers are great for high-traffic areas because they are long lasting and can be taken care of with no special maintenance.
8. Faux flowers can be found in any colour you want.
Faux flowers come in all sorts of colours, so you can easily find the perfect hue to suit your space or event. They're a great way to add more colour to the world around you, whether you're looking for flowers to brighten up your space or event or flowers to brighten someone's day, there are plenty of options to choose from. Plus, faux flowers are a great way to add a touch of colour to your space or event if you're not able to have real flowers.
9. Faux flowers are always in season.
Faux flowers offer an array of benefits that make them a great option for flower arrangements all year round. With a never-ending range of colours and styles available, it's easy to see why people are increasingly choosing faux flowers for their flower décor. For those who like to change their flower arrangements with the seasons, faux flowers offer the perfect solution – simply swap out your arrangements to suit your own feelings or emotions. Faux flowers offer an easy way to add a touch of luxury and brilliance to any place or event. For a simple swap out, you can place them in a pillowcase to keep the dust at bay and replace your faux flowers with colours and styles to suit the occasion or the season. Whether you want to add a touch of elegance to your décor or celebrate a special event, faux flowers are an affordable and beautiful option.
If you want to create an ambience that is perfect for any occasion, then you need to have life-like faux flower blooms in every hue at your disposal. This way, you can always have the perfect arrangement to match your emotions, moods and the season. You don't need to worry about maintenance or replacement either.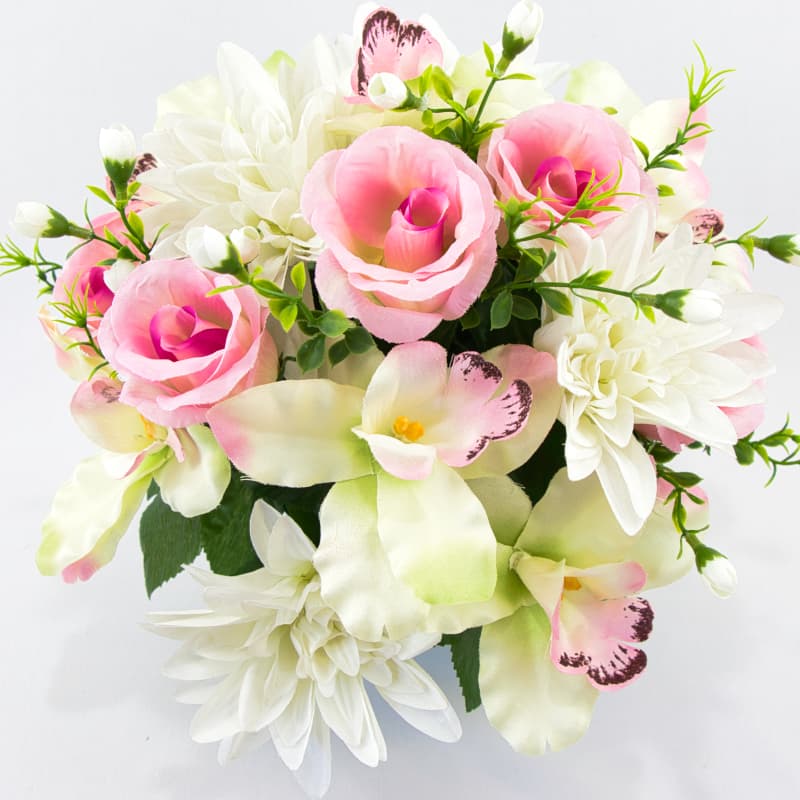 10. Faux flowers are pet friendly.
If you have furry friends, it can be difficult to find fresh flowers that are both safe for them and stylish enough to elevate your floral styling decor.
Pets are playful by nature and sometimes that can mean havoc around the house – like when they accidentally knock over a vase of flowers. If this happens and your pet starts chewing on the flower stems, it can be dangerous if consumed as they could ingest harmful bacteria like e-coli or mould that might be lurking on real flowers. Faux flowers, on the other hand, are a much safer option as they're not susceptible to bacteria and they'll last a little longer too. Plus, if they get knocked over or start to look a little worse for wear, you can easily style them back into shape with a hairdryer!


11. Faux flowers are Evergreen.
The term "evergreen" is used to describe a plant that has leaves throughout the year, as opposed to deciduous plants, which shed their leaves annually.
Faux flowers are an evergreen choice for your floral decor. With such a wide variety of flora colours, shapes, styles and flower lengths available, it's easy to find the perfect faux flower blooms to suit your décor space. Faux flowers never decay or wither, making them a perfect choice for those who want to enjoy beautiful blooms all year long.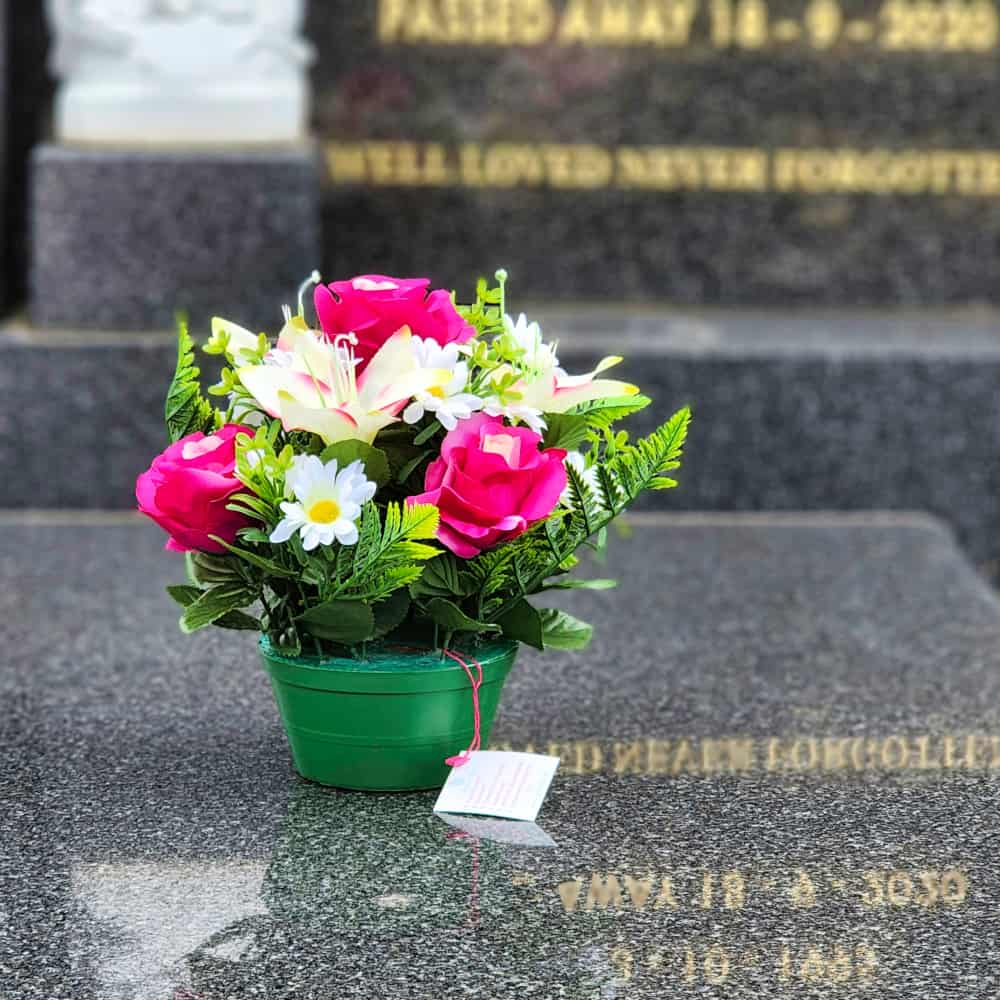 12. Set and Forget arrangements.
There are many reasons why people opt for faux flowers and silk flowers over fresh ones – and "set and forget" is definitely one of them! With faux flowers, you don't have to worry about them wilting or needing regularly watered and cared for, faux flowers only need blow dried with a hairdryer occasionally to keep them looking fresh and dusted free.
You can simply set them in your desired location and forget about them until it's time to change them out. This is especially convenient for busy people who don't have time to water fresh flowers regularly, who travel frequently or have busy schedules.
14. Realistic.
Faux flowers can look incredibly realistic, a great way to add a touch of realism to your décor and it can be hard to tell the difference between them and real flowers. This is because they are made from high-quality materials and are designed to look as close to the real thing as possible.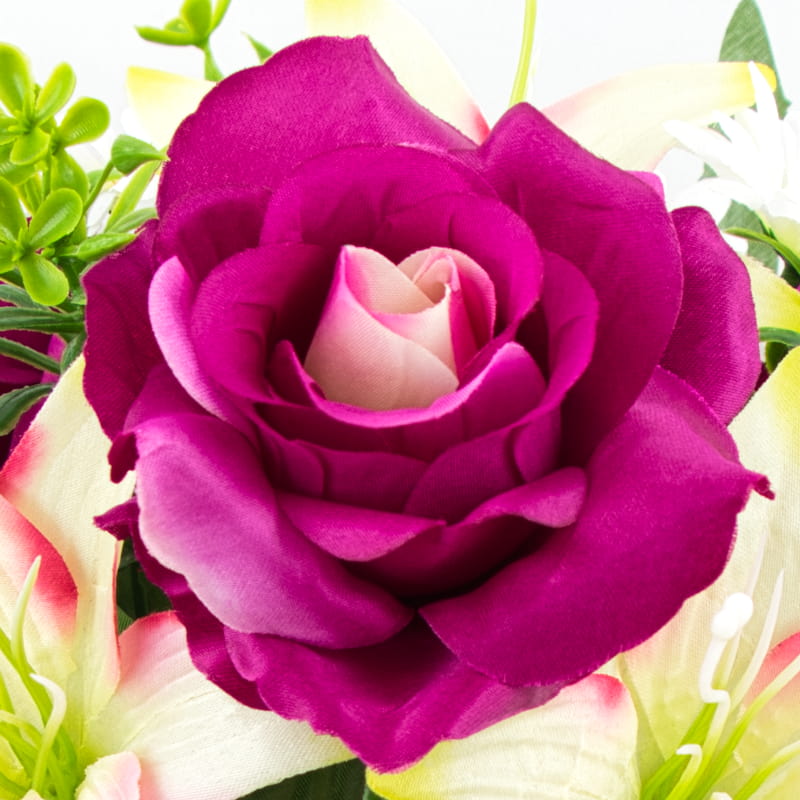 15. You can keep them as a memento or keepsake.
After the occasion or event is over, you may want to keep some of the faux flowers as mementos or keepsakes. This can be a great way to remember the event and all of the special moments that took place. You can keep them and place them in a vase, place some with photographs and have them framed. These blooms can help you to relive the event, or occasion in remembrance every time you look at them. You may also want to take and place them in a photo album. This can be a wonderful way to remember the people that were there. You can also share these faux flowers with your family, friends, and others if you please.
These can be a great addition to your home, office or place that is special to you. They can bring a smile to your face and capture that wonderful memory.
Conclusion.
We hope that this journal (blog) has helped you to further appreciate the beauty of faux flowers and faux or artificial floral arrangements. With handcrafted materials made to simulate natural florals from single stem flowers to complex bouquets that they almost look real, faux flowers are the perfect choice for anyone who wants something beautiful to liven up your home décor, office décor, event, gravesite, a place that's important to them or looking to send a gift to someone special. Additionally, not everyone has the time or the ability to keep up with something as demanding as maintaining fresh flowers and plants which is why faux flowers can be a good consideration. And with a wide range of different styles, sizes, and colours to choose from, you are sure to find something that is perfect for you and your love ones.
Take a look around our GiftsAfter.Life online store to discover the wide range of options we have to offer and to order the perfect faux bouquet or flower arrangement. We're sure you'll have a wonderful experience!
Still Have Some Question?
Did we mention or would you like to add further information to this post?
Please contact us, we welcome your input.
Get In Touch