Rose, Cymbidium Orchid and Dahlia Potted Faux Flowers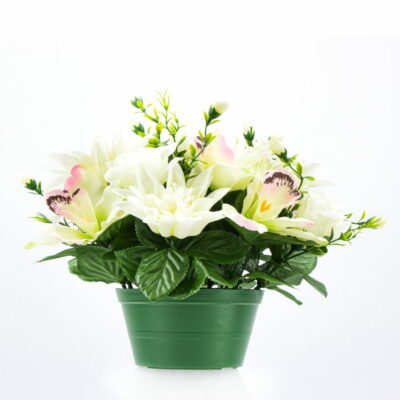 Rose, Cymbidium Orchid and Dahlia Potted Faux Flowers arrangement.
This potted faux flower arrangement incorporates Ivory White Roses, Lemon Chiffon coloured Cymbidiums with touches of Pink and Floral White Dahlias caressed in an arrangement among Floral White fabric flowers and greens leaves, making this potted arrangement a simplistic elegant communique.
Create a lovely memorable display with this exquisite silk faux flower potted arrangement. This range of flowers and leaves is delicately handcrafted with a combination of fabric materials to bring out the beauty of the flowers. The 6 Lemon-Chiffon coloured Cymbidium Orchids are artfully arranged and stand out with blushed pink tips to make the arrangement shine on its own. The 5 flowering roses are made of Ivory White silk and seem to make it more lovely and 4 handcrafted floral white dahlia flowers are all adorned with 8 small floral white fabric flowers and foliage. The flowers are stunning and peacefully.
They make a very thoughtful gift for that upcoming special occasion!
Each flower has its own symbolic representation.
Mostly grown in Asia and found in Australia the Cymbidium Orchid is a delicate flower ideally used in bouquets to bring elegance to traditional memorials arrangements to narrate one's faith or humility for a loved one.
Similarly, White Roses are to imply one's loss of silence or innocence, as well as a colour for purity.
The White Dhalia in Flowers and blooms is an important symbolic colour in the majority of religions and cultures, because of its association with dignity, elegance, strength and white for purity.
Read more on Flower Colour Meaning and Symbolisation Guide.
Each flower in this potted arrangement is handmade of fabric, the branch/stems are made of injected plastic the main stem is inserted with metal wire to provide design application flexibility to maintain your ideal flower arrangement design placement.
Each luxurious potted arrangement has a small amount of composite added to the pot to increase weight and prevent movement in windy conditions.
For the Do-It-Yourselfers,
These potted flower arrangements can be placed as is or can be placed into another pot or can be wrapped with gift wrapping to gift to a loved one. These potted arrangements can be customised to suit and fit perfectly for your cemetery arrangement styling or any other design you may have in mind.
Product Pack sold as: 1pc, 5 White rose flowers 6 Cymbidium flowers with Pink tips, 4 White Dahlia, 8 White fabric flowers and foliage, and Faux Flowers in a potted composite. (Sold separately, Accessories not included).