Crimson Red Carnation and Ivory White Orchid Potted Faux Flowers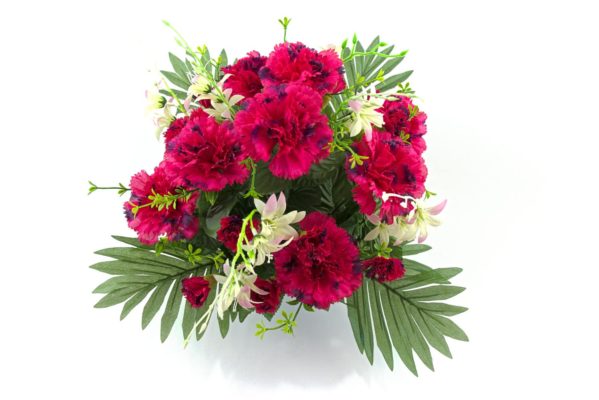 Crimson Red Carnation and Ivory White Orchid Potted Faux Flowers arrangement.
The potted faux flowers in this arrangement are lush, vibrant Crimson (red) with splashes of Flirt (purple) toward the tips, giving them a subtle dimension. The Faux Carnation buds add a splash of colour while the Faux Orchids add a more exotic touch of Ivory White with Baby Pink tipped petals. All of this is nestled among bright Olive Green Faux Fern leaves, making this pottery arrangement a dramatic statement.
Carnations and Orchids are the most used faux flowers at gravesites due to their simple, elegant design with little to no maintenance. Some of the most beautiful carnations come from European countries. They have a long tradition of being given as funeral flowers, in condolence for the death of a loved one. The luxurious colours in the petals of these carnations with the splashes of Baby Pink of the Ivory White orchids make them a perfect way to show your sympathy and support during difficult times.
Each flower colour has its own symbolic representation.
The most popular colour is the red carnations, light red carnations represent admiration, while dark red denotes deep love and affection.
In western cultures, a red carnation is considered to also be a lucky flower and is often worn on a lapel.
A Floral White Orchid is from the Oncidium genus species of Orchids.
The colour White in Flowers and blooms is an important symbolic colour in the majority of religions and cultures, because of its association with purity.
Read more on Flower Colour Meaning and Symbolisation Guide.
Each luxurious potted arrangement has a small amount of composite added to the pot to increase weight and prevent movement in windy conditions.
For the Do-It-Yourselfers,
These potted flower arrangements can be placed as is or can be placed into another pot or can be wrapped with gift wrapping to gift to a loved one. These potted arrangements can be customised to suit and fit perfectly for your cemetery arrangement styling or any other design you may have in mind.
Product Pack sold as: 1pc, 8 Large Carnations, 12 Carnation Buds, 7 Stem Orchids & 4 Fern leaves Faux Flowers in a potted composite. (Sold separately, Accessories not included).