24 Floral White Rosebuds and Eucalyptus Mixed Faux Flower Bouquet.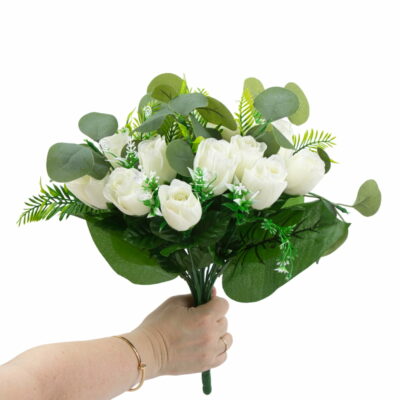 These 24 Floral White Rosebuds and Eucalyptus Mixed Faux Flower Bouquet.
24 beautifully hand-crafted Floral White Faux Rosebuds, designed to resemble a bouquet of genuine rosebuds. Our bouquets are specifically designed to add a touch of luxury and class to any occasion, and we're confident that you'll be satisfied with the workmanship. A Rose bouquet like this makes for an excellent gift for a loved one or as a meaningful present for your mother or daughter on Mother's Day or your wife on her birthday or anniversary.
Our flowers are beautiful and vibrant, handcrafted with care by skilled floral artists. Display them in a vase or in a decorative bowl or basket to add a touch of luxury to your home.
This Rosebud bouquet is a perfect present for someone who loves purity and simplicity in colour. The arrangement is put together with an all-white colour scheme in mind, making it a versatile gift that will work well with any decor.
White Roses and White Rosebud have their own special meaning:
The white rose is a symbol of Hope, and this bouquet is a beautiful way to show someone that you care.
The white colour of the roses represents Purity, Innocence, and New Beginnings. The bouquet itself is a symbol of Hope and New Beginnings.
Additional symbolic meaning to Hope, New Beginnings, this Flower White bouquet can represent, The Promise of a Bright Future.
For the Do-It-Yourselfers,
This rose bud bouquet can be cut, bent, or prune to create your desired floral design or arrangements decor that suits and fits perfectly for your cemetery arrangement styling or any other design you may have in mind.
Product Pack sold as: 1pc,
24 Faux Floral White Rosebud flowers with a diameter Ø 4 to 5 cm, and a rose length of 6cm.
8 stems of 4 Eucalyptus leaves per stem.
8 stems of fern leaves.
8 stems with white foliage and leaves.
24 branch/stem bouquets with 2 leaves per stem.
These Rosebud flowers are handmade of fabric and the branch/stems are made of injected plastic the main stem is inserted with metal wire to provide design application flexibility to maintain your ideal flower arrangement design placement.
Each Rose Bud Bouquet is approximately 35cm in height.