12 Multicolor Tea Roses & Gerbera Daisy Faux Bouquet 28cm High.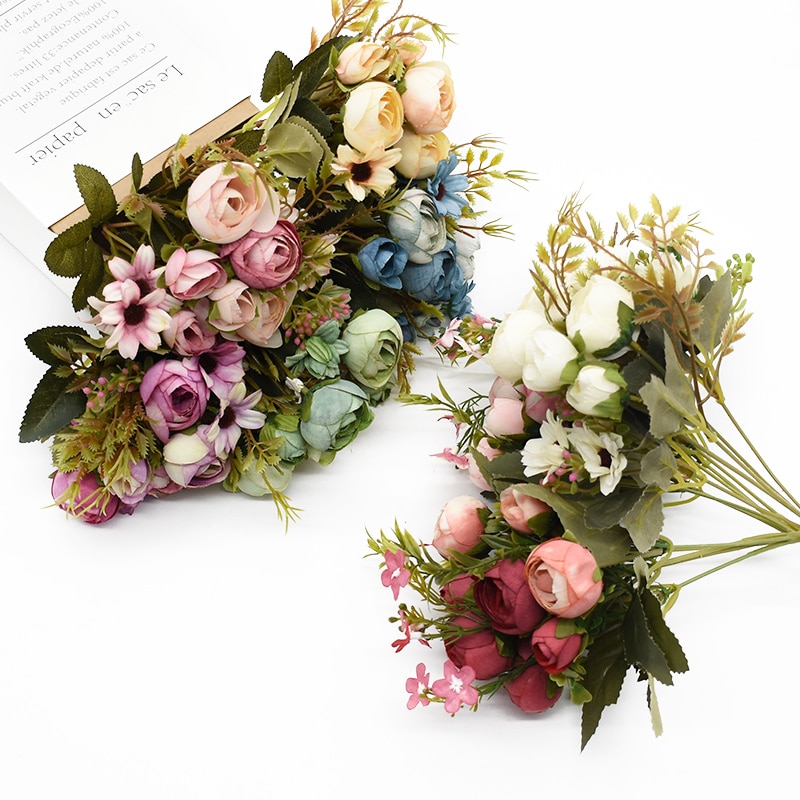 These Tea Rose & Gerbera Aster Faux (Artificial) Flower Bouquet designs are available in 6 colour variants.
Colours available are White, Pink, Light Orange, Light Purple, Green and light Blue
Roses and Gerbera Daisies are always timeless and elegant since they are the most popular cemetery flower used and each colour symbolises a different meaning.
The Rose is the most used and most popular flower you will see in cemeteries.
Each flower colour has its own symbolic representation.
The most popular colour is the Red rose which is symbolic of beauty, romance, passion, pleasure, love and procreation which makes Roses very popular choice for a spouse.
Pink roses represent grace and admiration which are perfect for mothers, sister or daughter.
Yellow roses are symbolic of Joy and Friendship.
A white rose symbolizes purity plus is perfect as an anniversary bouquet to a loved one.
These selections of Faux flowers are available in silk fabric that looks as real as freshly cut roses. Available in 6 colours as per the colour chart provided.
These artificial bouquets feature 12 flower bouquet 5 Stem with 6 large 4cm Rose Flowers and 6 Gerbera Daisies flowers at bouquet length of 28cm which can be used as a single cemetery faux (artificial) flower bouquet or group together as a grave artificial flower arrangement. The faux flower stem can be kept at supplied length or cut to suit your arrangement.
DIY the single bouquet or an arrangement to bend or prune to create your desired grave floral arrangements decor that fits perfectly for your gravesite styling.
The name Rose comes from French, itself from Latin rosa, which was perhaps borrowed from Oscan language, from Greek ρόδον rhódon (Aeolic βρόδον wródon), itself borrowed from Old Persian), related to Avestan varəδa, Sogdian ward, Parthian wâr.
Product Pack sold as: 1pc, 5 stems flower Bouquet. 5 stems with 12 Flowers.
Product Composition: Flowers, silk fabric cloth. Branch/Stems injection plastic with a steel wire insert. Flowers are handmade therefore the colours will vary from Flower to flower even if the same colour is purchased.
Shipping Note: To reduce the cost of shipping, Due to the length of this flower the flower stems will be bent to fit into the shipping box. Once you receive these flowers you can reshape the bent stems to original straight position or can be cut (cut with wire cutters) to desired lengths for intended project design.
If the flower is deformed or squeezed during shipping, steam (i.e. by boiling water) the flowers back to shape and dry with a blow-dryer. most of the time flowers and branches can be reshaped with hand manipulation to the desired shape.
Shipping Times: due to current times, shipping times can exceed normal transit times therefore please allow an additional 1 to 2 weeks depending on your final shipping location.