Sunflower 13 Yellow Silk Faux Flower Bouquet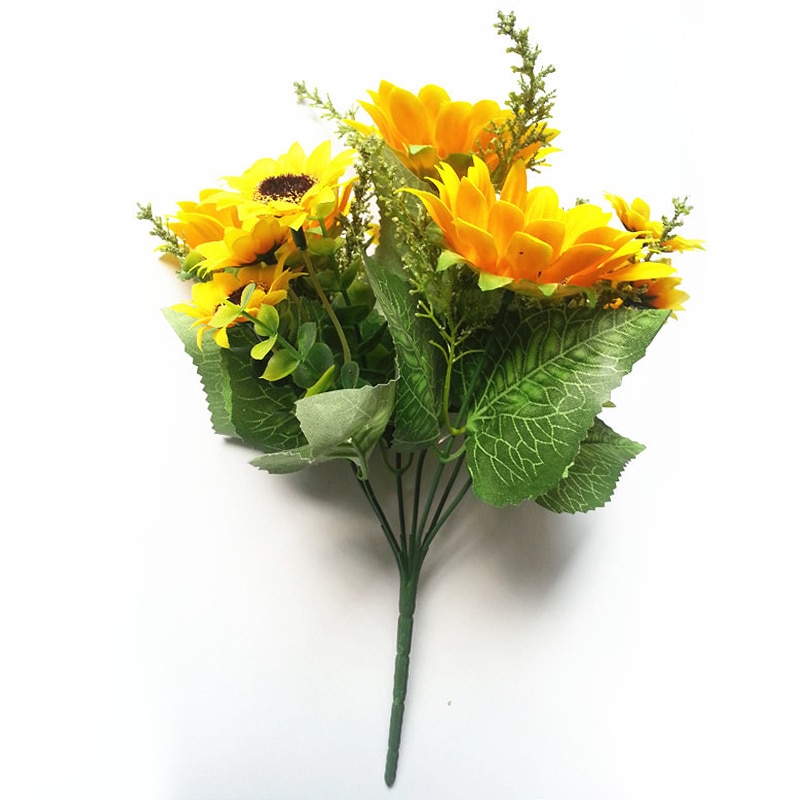 Sunflower 13 Yellow Silk Faux Flower Bouquet
The scientific name, Helianthus and the Genus, Helianthus Annuus, is the name commonly known as the Sunflower. The common name, Sunflower, derives its name from the flower's head's shape, which resembles the bold brightness of the sun. The Sunflower centre represents the Sun and the petals representing the sunlight rays beaming or Ray Flowers, from the sun centre (the flower head).
If you were to think of a yellow flower, the Sunflower would be the first to come to mind which brings happy, warm joyful feelings.
The primary colour of the Sunflower is Yellow, which symbolises Joy and happiness plus it can symbolise friendship, pride and success.
At funerals, Sunflowers are given by close friends of the deceased to show the close bond of friendship once had and if Sunflowers are included in a rose bouquet arrangement this would express the strong bonded love once had with the deceased.
As in the Spiritualist Religion, the sunflower is the symbol of the Spiritualist Church for a number of reasons one being, the belief that spirits of the dead exist, and another the Sunflower turns toward the sun as "Spiritualism turns toward the light of truth". Modern Spiritualists followers often have art or wear jewellery with sunflower designs.
For some countries in Central to South America yellow flowers are used to decorate relatives' graves who have passed on. For example, in Mexico Marigolds and Sunflowers are the most common flowers used to decorate a loved one's graves site.
For those that are interested in the Secrets in Plants and the Golden Ratio, you can read more mathematical details on our blog page, The Secret Life of Flowers.
For the Do-It-Yourselfers,
The Sunflowers can be individually cut off the main bouquet stem, to mix and match the leaf stems with other flora or keep the main Sunflower Bouquet in tacked to shape and create your desired floral design or arrangements decor that suits and fits perfectly for your cemetery arrangement styling or any other design you may have in mind.
Product Pack sold as: 1pc, 1 Sunflower Bouquet. (Bouquet sold separately, Accessories not included).