Silk Rose Faux Flower Single Short Stem In 3 Colours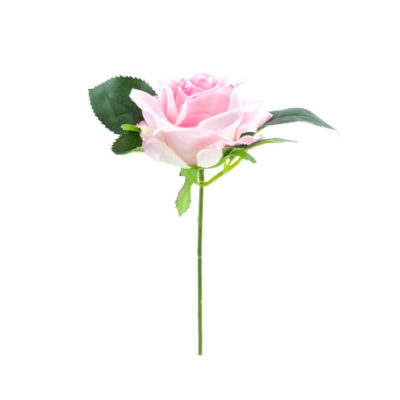 The Silk Rose Faux (Artificial) Flower Single Short Stem is available in 3 colour variants.
Roses are the most purchased and most popular flower you will see in cemeteries for they are eternal love and beauty.
Roses are always timeless and elegant since they are the most popular cemetery flower Purchased and each Rose colour and Quantity of Roses symbolises a different meaning.
Each Rose colour has its own symbolic representation.
The most popular colour is the Red rose which is symbolic of beauty, romance, passion, pleasure, love and procreation which makes Roses a very popular choice for a spouse.
Pink roses represent grace and admiration which are perfect for mothers, sisters or daughters.
Yellow roses are symbolic of Joy and Friendship.
A white rose symbolizes purity plus is perfect as an anniversary bouquet to a loved one.
This Single Rose Flower features a 9cm Ø diameter Rose flower with a total length of 18cm and 5 leaves (Approximately) which can be used or placed as a single cemetery faux (artificial) flower or grouped together with a number of colour variations of colours or different flora for your preferred grave artificial flower arrangement. The faux flower stem can be kept at supplied length or cut to suit your arrangement.
The Roses are handmade of silk fabric, the stem is made of injected plastic over a metal wire to provide design application to maintain your ideal flower design placement.
For the Do-It-Yourselfers,
This Rose can be cut, bend or prune to create your desired floral design or arrangements decor that suits and fits perfectly for your cemetery arrangement styling or any other design you may have in mind.
Product Pack sold as: 1pc, 1 Rose Flower on a single stem.