Rose, Lily and Orchid Potted Faux Flowers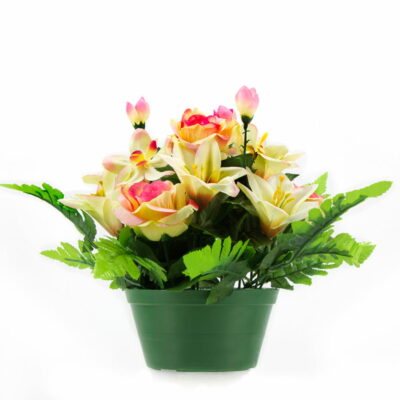 Rose, Lily and Orchid Potted Faux Flowers arrangement.
This is a faux Rose, Tiger Lily and Orchid flower potted arrangement that is both beautiful and realistic. The Lemon Meringue with Paradise Pink tipped centre petals coloured Roses will add a pop of colour to any setting or flower decor, while the Light Goldenrod Yellow Tiger Lily (Genus of Lilium Lancifolium) flowers will bring in elegance and class.
These exclusionary and lifelike faux Rose, Lily and orchid flowers potted arrangments are handcrafted and hand-arranged, featuring 4 Lemon Meringue coloured Roses, 6 Light Goldenrod Yellow Tiger Lily flowers, as well as 3 Light Goldenrod Yellow Orchid flowers with 3 Orchid buds. The Lemon Meringue Rose spans between 6 to 7 cm in diameter. The Light Goldenrod Yellow Tiger Lily flowers are made of a splatter of pale Crimson-tipped petals that spans between 8 to 9 cm in diameter. The petals are layered and firm. The flowers are attached to a 14 cm diameter pot with a 9.7 cm base, and the arrangement stands 24 to 25 cm in height.
The Lemon Meringue with Paradise Pink tipped centre petals colour Roses were chosen as the Yellow represents New Beginnings and Joy while the Pink tips are for Innocence and Grace and for this reason, this Yellow and Pink hues coloured arrangement is a representation of Joy to Life.
The Rose, Tiger Lily and Daisy Potted Faux Flowers are fixed in a single pot, giving you the best of what nature has to offer
Delivered within a box to your doorstep.
Each flower has its own symbolic representation.
This potted arrangement of Yellows and touches of Pink flowers is a symbol of life. It signifies the Joy of Life.
Tiger Lily represents the meaning of affection for one's loved ones.
Read more on Flower Colour Meaning and Symbolisation Guide.
Each flower in this potted arrangement is handmade of fabric, the branch/stems are made of injected plastic the main stem is inserted with metal wire to provide design application flexibility to maintain your ideal flower arrangement design placement.
Each luxurious potted arrangement has a small amount of composite added to the pot to increase weight and prevent movement in windy conditions.
For the Do-It-Yourselfers,
These potted flower arrangements can be placed as is or can be placed into another pot or can be wrapped with gift wrapping to gift to a loved one. These potted arrangements can be customised to suit and fit perfectly for your cemetery arrangement styling or any other design you may have in mind.
Product Pack sold as: 1pc, 4 Roses, 6 Tiger Lily flowers, 3 orchids with 3 Orchid bud flowers, 5 green fern leaves foliage in a Pot Height of 7 cm by pot width of 14 cm with a base width of 9.7 cm potted composite. (Sold separately, Accessories not included, colours may vary on all electronic displays).