Ranunculus and Anemone Faux Flower Bouquet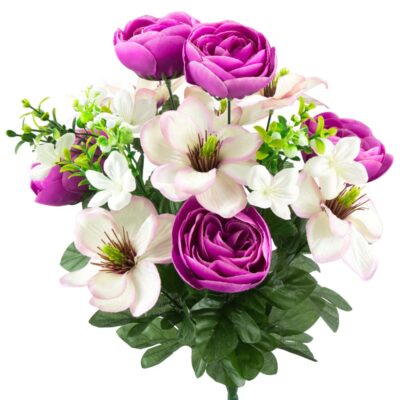 These Ranunculus, Anemone & Saxifrage Faux Flower Bouquet.
Welcome to our luxurious Ranunculus, Anemone & Saxifrage Faux Flower Bouquet.
This stunning 14 stem bouquet is the perfect addition to any home or event, providing the beauty of nature without the maintenance.
Featuring 6 White and Pink tip Anemone flowers, 5 Purple Ranunculus flowers, and 6 Saxifrages flowers, this bouquet exudes elegance and grace. The 3 stems with bunches of berries add a touch of whimsy and charm, while the 14 branches and stems with (Approx) 2 sets of 3 leaves per stem provide a full and lush appearance.
This faux flower bouquet is the perfect choice for those who want the look of fresh flowers without the hassle of watering and wilting. Whether you're decorating for a special occasion or simply looking to add some beauty to your love ones display, our Ranunculus, Anemone & Saxifrage bouquet is sure to please.
Don't miss out on the opportunity to add a touch of luxury to your space with our stunning Ranunculus, Anemone & Saxifrage Faux Flower Bouquet. With its 14 stems of elegant flowers, this bouquet is sure to make a statement wherever it is displayed. So why wait? Add this luxurious bouquet to your collection today!
Product Pack sold as: 1pc,
14 Stem Faux Flower Bouquet.
6 Faux White & Pink Tip Anemone flowers.
5 Faux Purple Ranunculus flowers.
6 Faux Saxifrages flowers.
3 stems with a bunches of Berries per stem.
14 branch/stem bouquets with (Approx) 2 set of 3 leaves per stem.
Each Bouquet is approximately 46 cm in height.
For the Do-It-Yourselfers,
This Faux Flower bouquet can be cut, bend or prune to create your desired floral design or arrangements decor that suits and fits perfectly for your cemetery arrangement styling or any other design you may have in mind.