Plum Cherry Blossom Faux Silk Flowers On Sakura Branch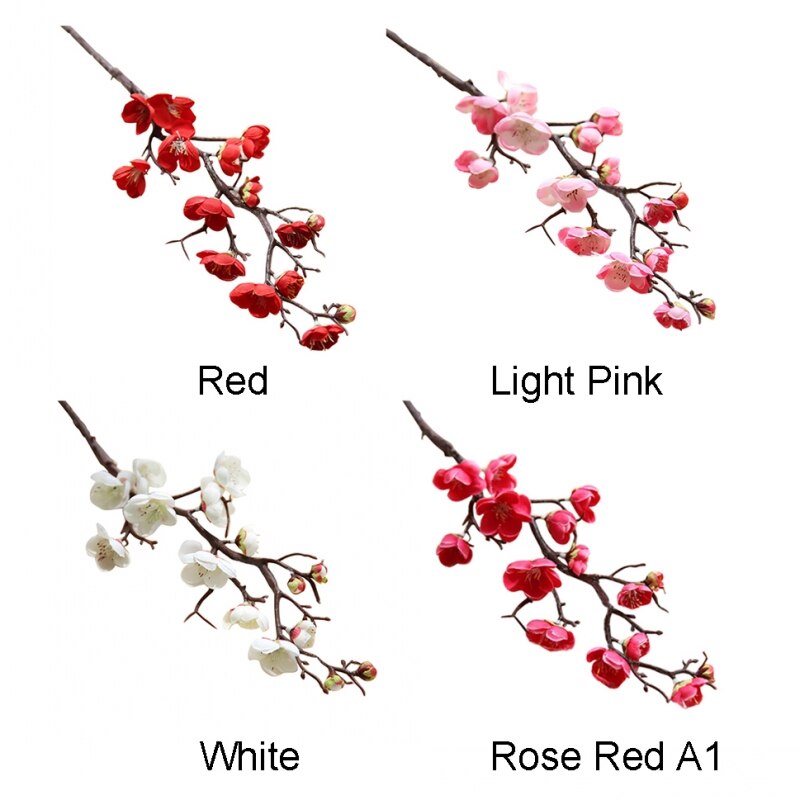 These Plum Cherry Blossoms Faux Silk Sakura Tree branch designs are available in 4 colour variants.
Colours available are Red, Rose Red, Pink and White.
These Faux (Artificial) Silk Cherry Blossom branch designs are handmade similarly to the original Cherry Blossom.
The Cherry Blossom is a flower of many trees of genus Prunus. The most well-known species is the Japanese cherry, Prunus Serrulate which this design is based from and known as the Sakura (桜 or 櫻; さくら).
They are widely distributed to Japan, Taiwan, Korea, Mainland China, Nepal, India, Pakistan, Afghanistan, Iran, Myanmar, Thailand, Europe, United States, Canada, and West Siberia. These Cherry Blossoms are considered the national flower of Japan.
The Prunus Serrulate or Japanese Cherry Blossom, also known as the Hill Cherry, Oriental Cherry, East Asian Cherry, is a species of Cherry native to China, Japan and Korea, which are used for its spring cherry blossom displays and festivals throughout these lands.
For the Do-It-Yourselfers,
The Silk Cherry Blossom single stem branches can be individually displayed or mixed and matched with other flora to create your desired floral design or arrangements decor that suits and fits perfectly for your cemetery arrangement styling or any other design you may have in mind.