Hydrangea Silk Faux Flower Single Stemux Flower Single Stem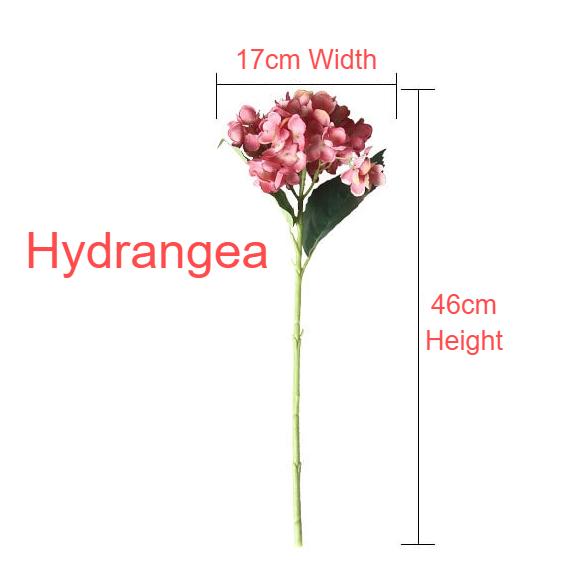 These Hydrangea Silk Faux Flower Single Stem designs are available in 14 colour variants.
This single stem Hydrangea is a faux simulation from the Hydrangea Macrophylla family Hydrangeaceae. The flower head blooms in blues, Red's, Pinks, Light and dark purples as the colours are affected by the soil pH value whilst growing.
These hydrangeas common names include Bigleaf Hydrangea, the French Hydrangea, Lacecap Hydrangea, Mophead Hydrangea, the Penny-Mac and the Hortensia.
The Flower Name Hydrangea is derived from Greek which means 'Water Vessel', in reference to the shape of its seed capsules. The earlier name, Hortensia, is a Latinised version of the French given name Hortense, referring to French astronomer and mathematician Nicole-Reine Lepaute.
Hydrangea common names are Hydrangea and Hortensia, and the most popular colours with Hydrangeas are the White's and Pink's which they symbolise;
White Hydrangeas ~ Innocence and Purity
Pink Hydrangeas ~ Happiness, Love, Grace, Romance and Admiration. Idea colour for ceremonies relating to celebratory love.
Purples Hydrangeas ~ Wealth and abundance.
Blue Hydrangeas ~ is the colour to express regret, forgiveness and caring.
Read more on Flower Colour Meaning and Symbolisation Guide.
Hydrangea Colours are available in a variate of, 1. White, 2. Pink, 3. Yellow, 4. Wine Red, 5. Coffee, 6. Green, 7. Light Blue, 8. Autumn Red, 9. Autumn Orange, 10. Autumn Blue, 11. Autumn Deep Purple, 12. Autumn Pink, 13. Deep Blue, 14. Light Purples with Yellow tones.
For the Do-It-Yourselfers,
This bouquet can be cut, bend or prune to create your desired floral design or arrangements decor that suits and fits perfectly for your cemetery arrangement styling or any other design you may have in mind.
Product Pack sold as: 1pc, Single Stem Hydrangea (Flowers sold separately, Accessories not included)