Hydrangea Faux Silk 3D Single Stem Flower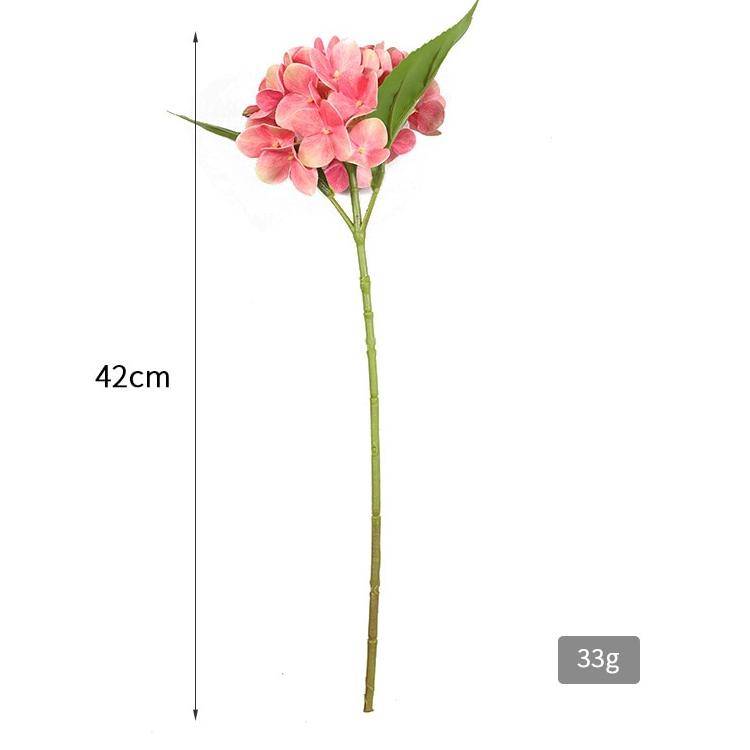 These Hydrangea Faux Silk 3D Single Stem Flower designs are available in 8 colour variants.
The Flower Name Hydrangea is derived from Greek which means 'Water Vessel', in reference to the shape of its seed capsules. The earlier name, Hortensia, is a Latinised version of the French given name Hortense, referring to French astronomer and mathematician Nicole-Reine Lepaute.
Hydrangea common names are Hydrangea and Hortensia, and the most popular colours with Hydrangeas are the White's and Pink's which they symbolise;
White Hydrangeas ~ Innocence and Purity
Pink Hydrangeas ~ Happiness, Love, Grace, Romance and Admiration. Idea colour for ceremonies relating to celebratory love.
Purples Hydrangeas ~ Wealth and abundance.
Read more on Flower Colour Meaning and Symbolisation Guide.
These selections of Faux Hydrangea Single Stem Flowers are available in printed 3D Hydrangea leaf patterns on silk fabric that looks as real as freshly cut Hydrangeas.
Hydrangea Colours available in a variate of, 1. Salmon, 2. Pink, C. White, D. Green, E. Lavender, F. Blue, G. Peach, and H. Purple.
For the Do-It-Yourselfers,
The Hydrangea Flower can be cut, bend or prune to create your desired floral design or arrangements decor that suits and fits perfectly for your cemetery arrangement styling or any other design you may have in mind.
Product Pack sold as: 1pc, Hydrangea Faux Flower Single Stem (Flower sold separately, Accessories not included)