Chrysanthemum, Dahlia and Saxifrage Potted Faux Flowers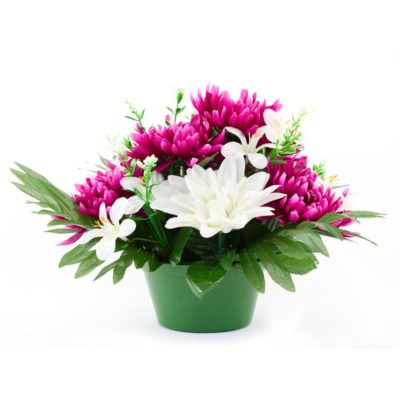 Chrysanthemum, Dahlia and Saxifrage Potted Faux Flower arrangement.
These potted faux flower arrangements are a lush, vibrant Fuchsia Chrysanthemum, Floral White Waterlily Dahlia and a mix of white foliage incorporating splashes of white Saxifrage nestled in the arrangement among bright green fern leaves, making this potted arrangement a dramatic statement.
The Chrysanthemum and Dahlia being of the genus family member Asteraceae of dicotyledonous plants go well together since they are relatives.
Brighten up any situation and add a remarkably realistic touch to any monument, location, home or office with this potted faux flower arrangement. These faux flower arrangements are handcrafted from a variety of high-quality materials, including hand-coloured silks and cloth material, metal and plastics, to bring a fresh and different look to any area. This floral arrangement is perfect for adding a natural feel and visual appearance with its vibrant fuchsia, white and green colours, to make it easy to place in any area, for a centrepiece. Their vibrant, natural look will bring a fresh vibe to any area, and the ability to place them anywhere means that these arrangements can be used as a decoration for a variety of things.
Each flower has its own symbolic representation.
More popular with Europeans the Chrysanthemum is the flower that people traditionally bring to their deceased loved ones' memorials.
The Purple Chrysanthemum which is more of a Royal colour tends to symbolize adoration and admiration.
The White Dahlia in Flowers and blooms is an important symbolic colour in the majority of religions and cultures, because of its association with dignity, elegance, strength and white for purity.
Read more on Flower Colour Meaning and Symbolisation Guide.
Each flower in this potted arrangement is handmade of fabric, the branch/stems are made of injected plastic the main stem is inserted with metal wire to provide design application flexibility to maintain your ideal flower arrangement design placement.
Each luxurious potted arrangement has a small amount of composite added to the pot to increase weight and prevent movement in windy conditions.
Product Pack sold as: 1pc,
7 Large handcrafted Silk Fuchsia Chrysanthemum flowers diameter Ø 9 to 11 cm.

3 Large handcrafted Silk Floral White Waterlily Dahlia flowers diameter Ø 9 to 11 cm.

12 White with Yellow centred handcrafted Saxifrage flowers diameter Ø 5 to 6 cm.

5 Green Fern branches. Fern Approx. 16cm in length.

Plus a mix of white plastic flowers and foliage.

Pot Height 7 cm by pot width 14 cm with a base width of 9.7 cm

 in a potted composite. (Sold separately, Accessories not included).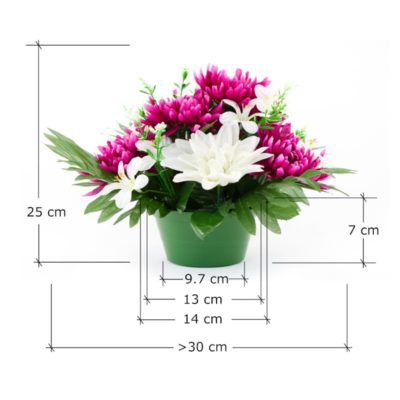 For the Do-It-Yourselfers (DIY),
These potted flower arrangements can be placed as is or can be placed into another pot or can be wrapped with gift wrapping to gift to a loved one. These potted arrangements can be customised to suit and fit perfectly for your cemetery arrangement styling or any other design you may have in mind. Additional flowers can be inserted into the potting composite if desired.