Chrysanthemum 2 Silk Faux Flowers With Leaves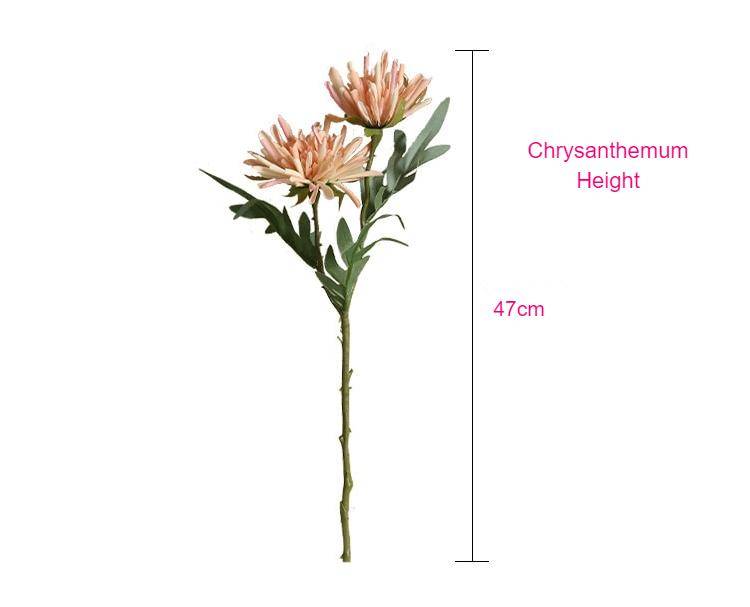 These Chrysanthemum Faux Flowers single stems are available in 8 colour variants.
Colours available are Orange, Dark Champagne, Light Champagne, Dark Pink, Purple, White, Yellow and Light Pink.
Chrysanthemum colour has its own symbolic representation.
The most popular Chrysanthemum colours are the Pink's which is symbolic of Happiness, Love, Grace, Respect and Admiration.
Yellow Chrysanthemum is also symbolic of Happiness, Joy and Friendship.
Purple Chrysanthemum which is more of a Royal colour tend to symbolize adoration and admiration
And the White Chrysanthemum mostly a meaning of sympathy for bereavement. The colour symbolizes purity and innocence plus is perfect as an anniversary bouquet to a loved one.
Chrysanthemums (Krɪˈsænθəməm), plus sometimes called Mums or Chrysanths, are a flowering plant of the genus Chrysanthemum in the family Asteraceae. These flower genera are native and the species originated from East Asia plus are found in northeastern Europe. Now countless horticultural varieties and cultivars exist.
The name "Chrysanthemum" is derived from the Ancient Greek word χρυσός, Chrysos (meaning Gold) and Ancient Greek word, ἄνθεμον, Anthemon (Flower).
For the Do-It-Yourselfers,
This single stem Chrysanthemum can be cut, bend or prune to create your desired floral design or arrangements decor that suits and fits perfectly for your cemetery arrangement styling or any other design you may have in mind.
Product Pack sold as: 1pc, 1 stem with 2 Chrysanthemum Flowers. (Flowers sold separately, Accessories not included)