5 Rose Flower Faux Bouquet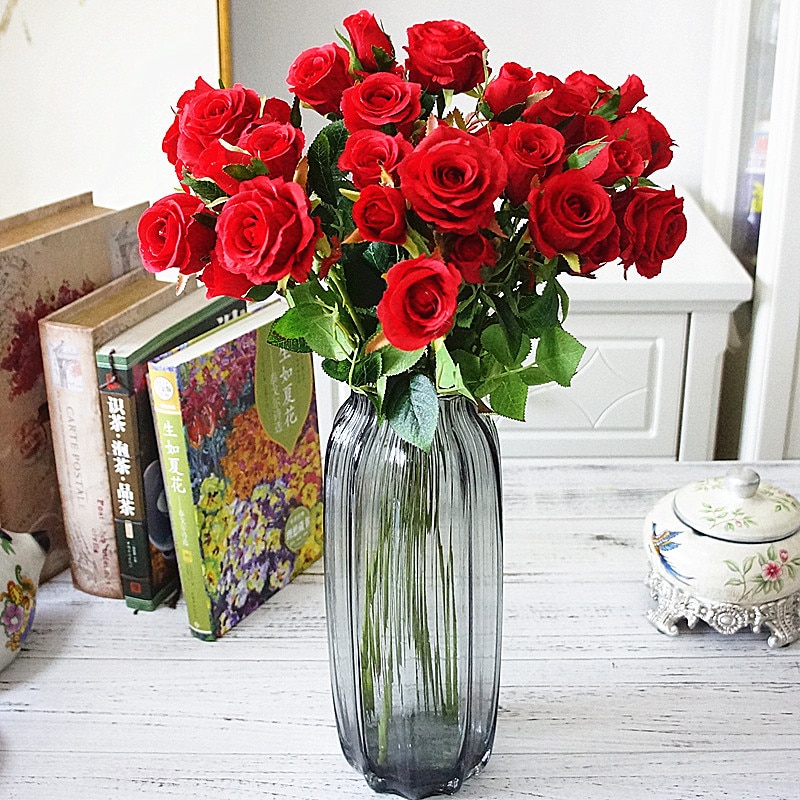 These Rose Faux Flower Bouquet designs are available in 7 colour variants.
Colours available are 1. Red, 2. Pink, 3. Fuchsia, 4. White, 5. Champagne, 6. Yellow and 7. Dark Pink.
Roses are always timeless and elegant since they are the most popular cemetery flower used and each colour symbolises a different meaning.
The Rose is the most used and most popular flower you will see in cemeteries.
Each Rose colour has its own symbolic representation.
The most popular colour is the Red rose which is symbolic of beauty, romance, passion, pleasure, love and procreation which makes Roses very popular choice for a spouse.
Pink roses represent grace and admiration which are perfect for mothers, sister or daughter.
Yellow roses are symbolic of Joy and Friendship.
A white rose symbolizes purity plus is perfect as an anniversary bouquet to a loved one.
Read more on Flower Colour Meaning and Symbolisation Guide.
These selections of Faux roses are available in silk material that looks as real as freshly cut roses.
The name Rose comes from French, itself from Latin rosa, which was perhaps borrowed from Oscan language, from Greek ρόδον rhódon (Aeolic βρόδον wródon), itself borrowed from Old Persian), related to Avestan varəδa, Sogdian ward, Parthian wâr.
For the Do-It-Yourselfers,
These Rose flower bouquet can be cut, bend or prune to create your desired floral design or arrangements decor that suits and fits perfectly for your cemetery arrangement styling or any other design you may have in mind.
Product Pack sold as: 1pc, 5 Rose Faux Flower Single Stem (Single Stems sold separately, Accessories not included).