Casablanca Lily Real Touch Faux Single Flower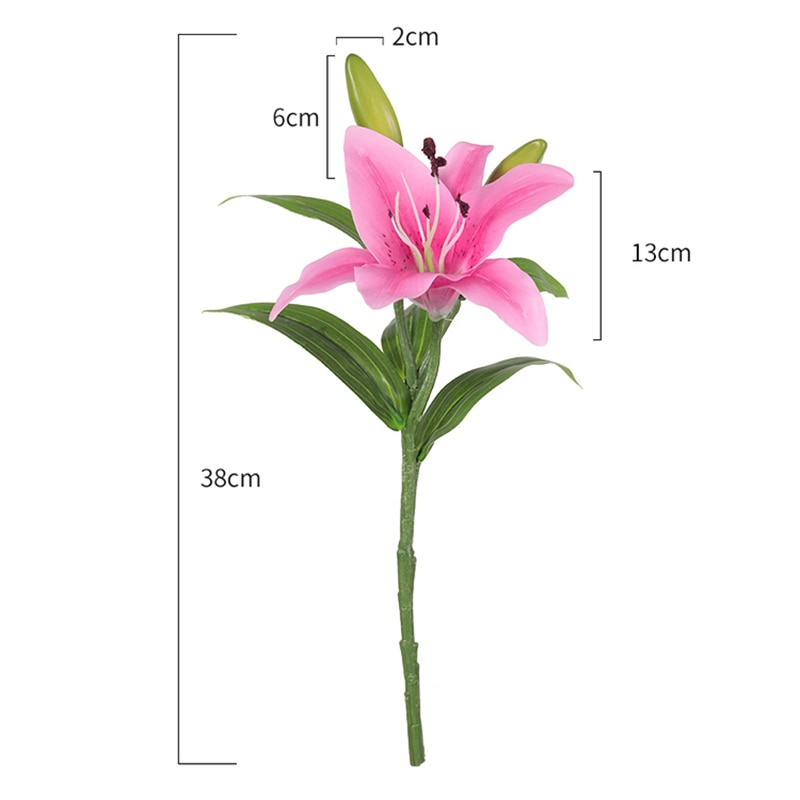 These Lily Faux Flower Bouquet designs are available in 5 colour variants.
Colours available are Fuchsia, Yellow, Pink, White and Light Pink.
Casa Blanca Lilies considered the royalty of the lily flower family which symbolize purity and refined beauty.
A white lily symbolises modesty and virginity.
An orange lily symbolises passion.
The yellow lily symbolises gaiety. while Lily of the Valley symbolizes sweetness and purity of heart. The Easter lily is the symbol of the Virgin Mary.
Their blooms are large and bright most sought after the unique characteristics that set them apart from all other lily species.
This lily features one Lily flower per stem plus 2 buds with real touch quality. At 38cm tall ideal for cemetery arrangements, or cut stem to suit your arrangement. This Lily is available in 5 colours.
The botanic name Lilium is the Latin form and is a Linnaean name. The Latin name is derived from the Greek λείριον, leírion, generally assumed to refer to true, white lilies as exemplified by the Madonna lily The word was borrowed from Coptic (dial. Fayyumic) hleri, from standard hreri, from Demotic, from Egyptian "flower". Meillet maintains that both the Egyptian and the Greek word are possible loans from an extinct, substratum language of the Eastern Mediterranean. The Greeks also used the word κρῖνον, krīnon, albeit for non-white lilies.
Product Pack sold as: 1pc, 1 single Lily flower with 2 buds per stem.
Product Composition: Flowers, silk fabric cloth. Branch/Stems injection plastic with a steel wire insert.
Shipping Note: To reduce the cost of shipping, Due to the length of this flower the flower stems will be bent to fit into the shipping box. Once you receive these flowers you can reshape the bent stems to original straight position or can be cut (cut with wire cutters) to desired lengths for intended project design.
If the flower is deformed or squeezed during shipping, steam (i.e. by boiling water) the flowers back to shape and dry with a blow-dryer. most of the time flowers and branches can be reshaped with hand manipulation to the desired shape.
Shipping Times: due to current times, shipping times can exceed normal transit times therefore please allow an additional 1 to 2 weeks depending on your final shipping location.