24 Rosebud Faux Flowers, 8 Floral White, 8 Pink, 8 Amaranth colour with Eucalyptus Flora.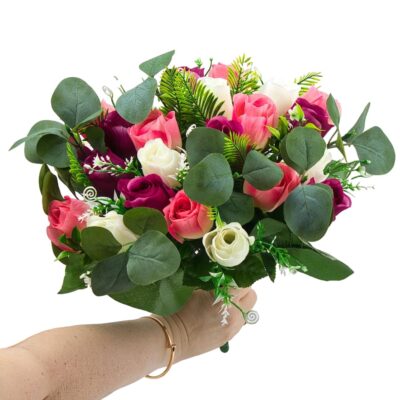 These 24 Rosebud Faux Flowers, 8 Floral White, 8 Pink, 8 Amaranth colour with Eucalyptus Flora bouquet.
Add a touch of sophistication and elegance to your decor designs with our 24 faux rosebud bouquet. This Rosebud Bouquet comes with three unique rosebud colours: White with half tones in Pink, Floral White, and deep Amaranth (reddish-purple colour). Each rosebud is carefully crafted to be realistic in design, shape, and texture, making them a great choice for adding a pop of colour to any setting or arrangement.
Whether you're looking to replace your old faux flower bouquets or find ways to add new life to your floral décor display, our rosebud bouquet is a perfect choice.
It's no secret that rosebuds are the iconic flower for romance and love, and with these beautiful Faux (artificial) flowers, you can enjoy their beauty and elegance without the need for constant care and maintenance.
This rosebud faux flower bouquet – the perfect gift for a loved one or friend who loves warm colour tones. Handcrafted with care by skilled floral artists, each flower in this bouquet is vibrant and realistic.
Whether you display these beautiful faux flowers in a vase, decorative pot, or basket, they are sure to add a touch of elegance and sophistication to any space. And because they are faux flowers, you don't have to worry about the daily care and maintenance of fresh flowers.
So why not give the gift of beauty and elegance with our rosebud bouquet? Order yours today and start enjoying the beauty of these artificial flowers for yourself. With their vibrant colours and handcrafted design, these rosebuds are sure to impress.
Each of these stunning and unique coloured faux rosebuds each has their own symbolic representation:
White roses symbolize purity, innocence, and new beginnings. A white rosebud specifically represents youth and the potential for growth and development. It is often seen as a symbol of hope and optimism.
Pink and white roses are often seen as symbols of love and romance. The pink color represents love, grace, and appreciation, while the white color represents purity, innocence, and new beginnings. Together, these two colors can symbolize the beginning of a new, loving relationship or the strengthening of an existing one.
Amaranth is a deep, reddish-purple colour that is associated with royalty and luxury. In the language of flowers, amaranth rosebuds symbolize unfading love and beauty. This makes them a popular choice for romantic gestures and gifts, as they represent the idea that love will never fade or die.
Product Pack sold as: 1pc,
8 Faux Floral White Rosebud flowers diameter Ø 3.5 to 4 cm.
8 Faux Pink and White base Rosebud flowers diameter Ø 3.5 to 4 cm.
8 Faux Amaranth Rosebud flowers diameter Ø 3.5 to 4 cm.
8 stems of 4 Eucalyptus leaves per stem width 4 to 5.5 cm.
8 stems of fern leaves.
8 stems with white foliage and leaves.
Each Rose Bouquet is approximately 35cm's in length.
For the Do-It-Yourselfers,
This rosebud bouquet can be cut, bend or prune to create your desired floral design or arrangements decor that suits and fits perfectly for your cemetery arrangement styling or any other design you may have in mind.